Join Us on the first Sunday of every month as
Holy Trinity Feeds the Hungry.
Our outreach is two-fold:
We prepare a meal for the guests at St. Elizabeth Center in Lorain

We collect non-perishable food for the Choice Food Pantry at St. Mary's in Lorain. 
See descriptions below and information on how to get involved in each.


The St. Elizabeth Center is part of Catholic Charities' presence in Lorain County and is the result of an emergency shelter that was started at the old St. Joseph Church on the corner of 15th & Reid Avenue in Lorain.  Now in it's permanent location, the shelter houses and feeds at least 50 guests 365 days a year.  
Holy Trinity has chosen the First Sunday of the month to supply these guests with a cooked meal.  Every month we share here on the website and in the Sunday bulletin the requested meal items and ask parishioners to prepare and then package your portion of the meal for spill proof transportation.  
Our next meal is on Sunday, February 7th and includes: 

Chili

Oyster Crackers

Cornbread Muffins

Fresh Apples/Bananas/Oranges

Dessert
Drop off your prepared items on either of the following days / times
Sunday, February 7th from 3:00 til 3:30 pm in the Church Parking Lot

(normal drop off time)
Please sign up below for any items that you can provide.  If you have any questions, please call the Parish Office, Monday thru Friday from 8 am to 3 pm at 440-937-5363.
Please click on the SignUp Genius icon to help with our meal.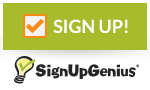 If you do not have access to a computer but would still like to help, please call the Parish Office between 9 am and 2 pm Monday thru Friday to sign up for meal items.  We are happy to help you.
On the First Sunday of every month non-perishable food is collected in the back of the Church.  Please drop your donations underneath the choir loft stairs when you come to Mass.   On Monday morning our parishioners deliver the food to the Choice Food Pantry at St. Mary's in Lorain.  Please no perishable items!